Khmer Dancing
The honored tradition of traditional Khmer dance stretches back over a thousand years to the Age of Angkor when it was popular with Kings and common folk alike. In the tradition of perservering this great cultural heritage, AMAZON ANGKOR Restaurant presents nightly Apsara and traditional dance performance.
1 - TEP MONOROM DANCE
Tep Monorom or Happiness of the gods and goddesses dance is one of the most popular and beautiful dances in the court repertoire. It has been performed as a dance of blessing to end a performance. The distinctive interwearing floor patterns of the Tep Monorom, as well as the complimentary relationship of male and female, in which the male is the always on the female's left reveal the importance of balance in Khmer social interaction. The chorus describe the erotic pursuit of the heavenly maidens by the male celestials as well as there harmonious union.
2 – COCONUT DANCE
This popular dance from south-eastern Cambodia is performed at wedding ceremonies. Highly rhythmical and punctuated with shouts and the rapping of coconuts, it expresses joy in life and harmony amongst Cambodians.
3 – MEKHALA DANCE
A metaphor for the victory of good over evil. Armed with a crystal ball casting rays of lightning, the goddess of waters Moni Mekhala triumphs over the demon Ream Eysaur, whose axe creates hunder. The two characters illustrate the victory of beneficial rains over the dry and stormy season.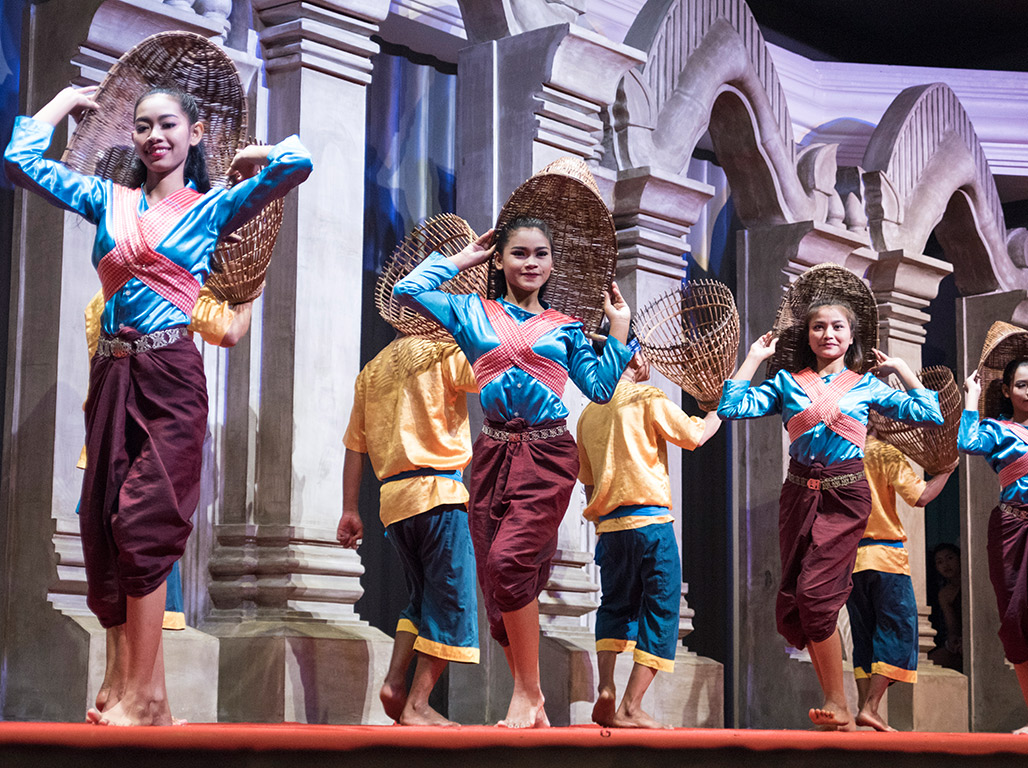 4 – FISHERMEN'S DANCE
This rural entertainment dance is a lesson of love and courtesy. It depicts, while exaggerating them, boys' and girls' attitudes to love and courtship. The dance shows a tenacious and mischievious boy courting a shy and earnes young girl.
5 – APSARAS BALLET
This ballet was performed at offering ceremonies and palace celebrations in the Angkorian era. The Apsaras, half-women half-goddesses, are heavenly dancers. Their circular movements and posied motions, the litheness of their gestures, symbolise their hovering between the cosmos and earth.